Chevron Style Copper Magnetic Bracelet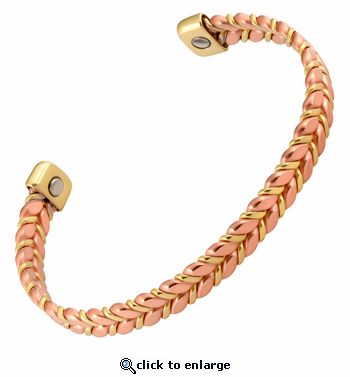 Chevron Style Copper Magnetic Bracelet
Chevron Style Copper Magnetic Bracelet made in USA!
This is a chevron design style pure copper & brass twisted magnetic bracelet. This is a very nice bracelet. It has 2 powerful 3000 gauss neodymium magnets and is a bit wider than 1/3"
Since early times people have used copper to heal the mind and body based on the metals energy
conducting properties. Has been used as an instrument against arthritic and rheumatic ailments.
(*People who are pregnant, wear an electronic implanted device such as a pacemaker, defibrillator, insulin
pump, or any electronic device for any medical purposes of any kind should consult with their medical
practitioner before purchasing.