Amethyst with Hematite Bracelet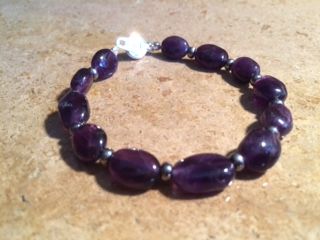 Amethyst with Hematite Bracelet
CUSTOM HANDMADE BRACELET
Amethyst opens third eye chakra and clarifies spiritual vision.Hematite helps one overcome weakness and timidity of any kind and enhances self-esteem! Whether you're looking for a beautiful custom bracelet to wear, or considering the wonderful spiritual properties of Amethyst & Hematite this bracelet is for you!!

Local Artisan made in USA!
GENUINE GEMSTONE AMETHYST WITH HEMATITE BRACELET
PLEASE SPECIFY SIZE (In Inches) WHEN ORDERING!
No Refunds on custom orders